How Can an Event Company Benefit Community and Respect the Environment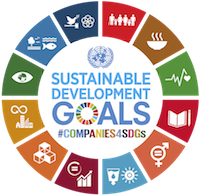 UN Global Goals
---
So much goes into producing special events and so much can come out of it. Guests can be left with unforgettable encounters and life-lasting experiences, while also leaving behind a trail of excessive waste and missed opportunities for positive impact.
GOAL 5 GENDER EQUALITY 
GOAL 8 DECENT WORK AND SUSTAINABLE ECONOMIC GROWTH
GOAL 10 REDUCE INEQUALITY
GOAL 12 SUSTAINABLE CONSUMPTION AND PRODUCTION
---
FOUR KEY STEPS
Planning
The Global Goals provide a framework to grow within both as individuals and as a company. While many goals inspire us and tie to our personal and communal values and initiatives, Goals #5, 8, 10 and 12 are most impactful to our organization and industry. 
Commitments
We support Goal 5 by ensuring full participation in leadership and decision-making by a predominantly female staff. Further, we are committed to prioritizing women (and minority) owned businesses as vendors and event partners. Over 50% of the companies we hire or collaborate with are also women-owned. 
Goal 8 not only defines our business, as we are a small-sized entrepreneurial business but also compliments our hiring practices and employment principles. We strive to maintain a fair profit share between all employees by being employee-owned and create opportunities for team members to develop clients and/or internal tasks and roles that allow greater compensation for each individual. Because of this many staff hold varied roles within our organization. Additionally, our starting rate is above minimum wage, we cover food and travel expenses, which is not standard in our industry, offer no-interest loans to staff, and support with company assets staff endeavors related to our industry.  We encourage creative problem solving through idea share and alternating tasks and responsibilities. By being a team of equals instead of a set hierarchy we are able to foster greater team morale than we've noticed from other similar organizations in our industry.
Although we are a small team, we aid in forwarding the principles of Goal 10 by ensuring we hire and support vendors from a wide range of backgrounds and practice equal pay policies. When it comes to the makeup of our company, women and minorities are the majority.
Goal 12 of substantially reducing waste through prevention, reduction, recycling, and reuse plays into many aspects of our industry, from general waste generated during the production and run of the event to the carbon footprint created by sourced materials. We consider this aspect in all parts of our business, including sourcing materials created locally or nationally, working with local vendors and employing local talent, using sustainable disposables, and reusing and/or donating leftover materials and product. We also work to donate excess food to woman's shelters following events.
Actions
We feel like many of the Global Goals resonate throughout our organization. The makeup of our team and values we prioritize show our support of Goals 5, 8, 10 and 12. We support and push to clients other women and/or minority small businesses, with a focus on local and/or vegan options and chefs in food offerings. We offer free support and discounted services to other women and/or minority small businesses, and are active in related small business and women based groups and collectives. Although our impact is small, using it to share our intentions of first reducing and conserving, and further, making it a point to inform our guests about the sustainable options we've selected, as well as how to consume less, we further the principles of Goal 12. Concurrently, we recommend clients include the option to purchase carbon offset credits for larger events, and have a list of related charities we suggest clients partner with for ticketed events that are women, minority, or environmental focused.
We commit to supporting Goal 5 by continuing to employ a majority of women and minority staff. We hope to continue our efforts towards Goal 8 by increasing existing employees' company ownership percentage in the next year, and years to come. By increasing business within our existing principles, we will continue to adhere to Goal 10 in supporting other women and minority vendors, suppliers and staff. In line with Goal 12, we forecast that as our business grows we will be able to greater influence the industry standards regarding using sustainable materials and considering waste and carbon offsets of event production.
Progress
GOAL 5 – GENDER EQUALITY – ENSURE FULL PARTICIPATION IN LEADERSHIP AND DECISION-MAKING
Our team is majority women as well as majority, minority standing individuals. Women and minorities have, "full and effective participation and equal opportunities for leadership at all levels of decision-making" in our company.
Goal 8 – DECENT WORK AND SUSTAINABLE ECONOMIC GROWTH – PROMOTE POLICIES TO SUPPORT JOB CREATION AND GROWING ENTERPRISES
We promote, "development-oriented policies that support productive activities, decent job creation, entrepreneurship, creativity and innovation", by paying over minimum wage, being employee-owned, sharing responsibilities for greater profit share. Through our success, we encourage the formalization of other similar-sized enterprises. We also publicly and financially support a charity that offers financial services to other small businesses and support financially and through mentorship independent projects of staff, related entities, arts and non-profit.
GOAL 10 – REDUCE INEQUALITY – ADOPT FISCAL AND SOCIAL POLICIES THAT PROMOTES EQUALITY
Our organization's policies, including fiscal, wage and social protection policies, are progressively designed to achieve greater equality amongst our team and our vendors and collaborators. We strive to be a company that individuals can find longevity in an industry where that can be a challenge.
GOAL 12 – SUSTAINABLE CONSUMPTION AND PRODUCTION –SUBSTANTIALLY REDUCE WASTE GENERATION
We are actively participating Goal 12 to "substantially reduce waste generation through prevention, reduction, recycling and reuse" by 2030. We intend to continue to utilize and promote other local, sustainably-focused, small businesses as well as ways to reduce waste in the event industry and continue studies on how to reduce waste and emissions generated by the industry.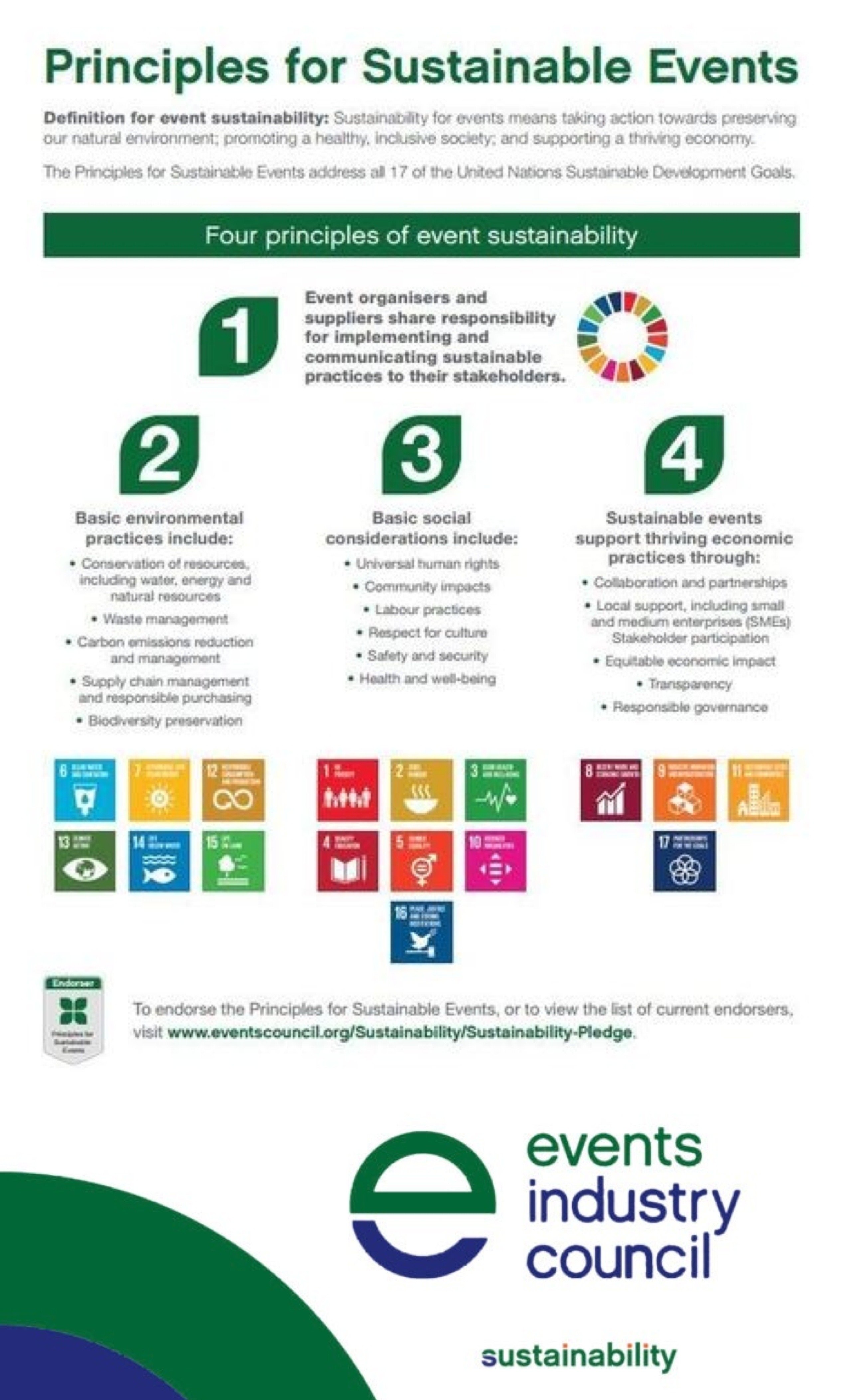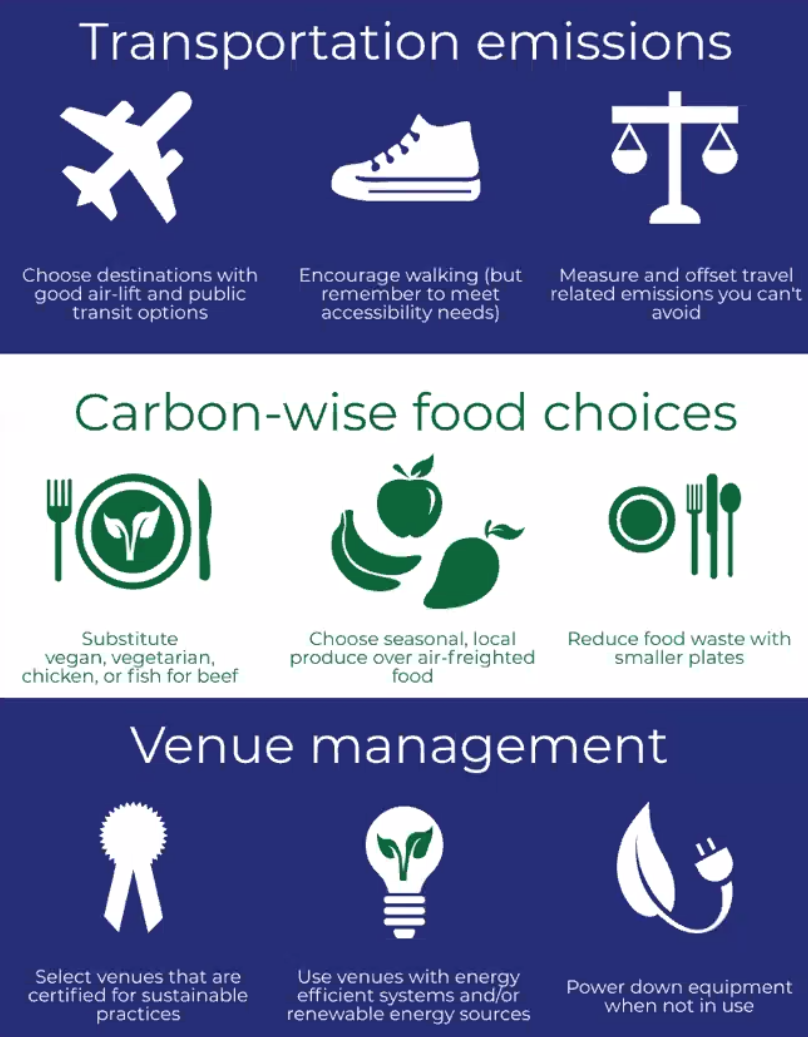 NYCEVENTPRO DECLARATION OF SUSTAINABILITY
NYCEVENTPRO VENDORS AND NON-PROFITS
NYCEVENTPRO TERMS AND CONDITIONS
READ MORE AT: SUSTAINABLEDEVELOPMENT.UN.ORG/SDGS
GRAPHIC PER THE EVENTS INDUSTRY COUNCIL