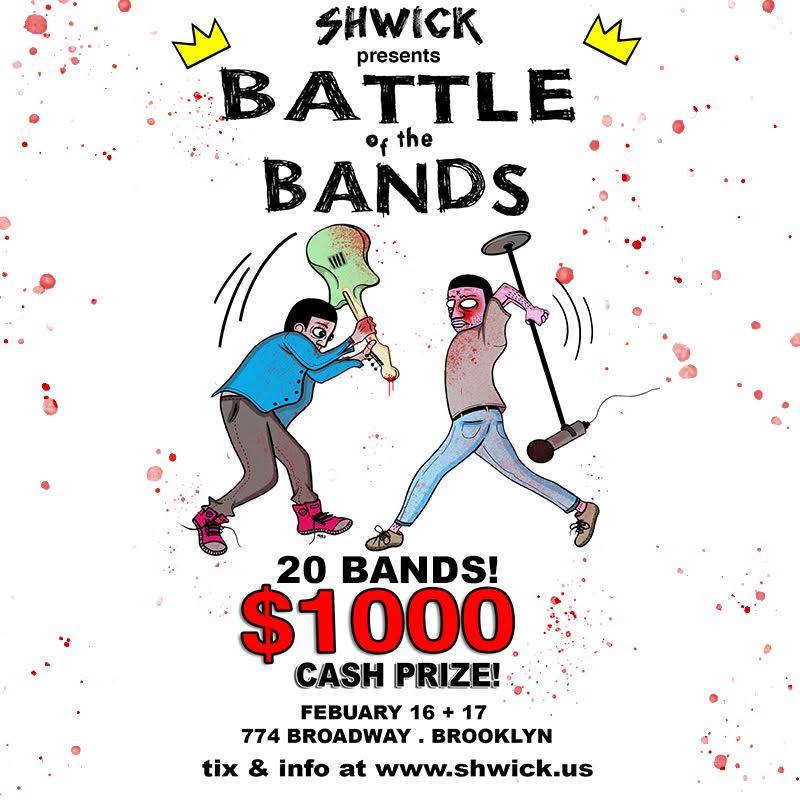 We're partnering with Cantina Royal, Shwick Productions and Bklyn Commons this weekend for the first Shwick BATTLE OF THE BANDS!
Watch as 20 up-and-coming bands go machine head to machine head in competition for the $1k price!
BATTLE OF THE BANDS LINEUP/SCHEDULE
Saturday, February 16th
noon – BRBRCK & The Ill Harmonics
1pm – Trick Blue
2pm – The Band of Brothers
3pm – Embrace The Downside
4pm – Wave Table
5pm – Busse & The Vibes
6pm – Dad
7pm – Stranger Lace
8pm – Ähdi Synth
9pm – Elevator Pitch
Sunday, February 17th
noon – Bird Gangs
1pm – Phoenixx
2pm – Stereoship
3pm – Hourglass
4pm – Jhariah
5pm – OJ In The Yams
6pm – Brett Benowitz
7pm – Moon Gel
8pm – Morrisania Band Project
9pm – Granton Ave
In addition to the Battle of the Bands, Shwick is also hosting the Black Market on Feb. 23 and 24.